Ex-FBI boss Mueller named to lead Trump-Russia probe
Comments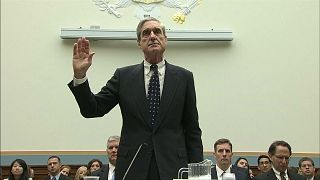 Former FBI boss Robert Mueller has been named special counsel to oversee an inquiry into alleged Russian interference and possible collusion with the Trump campaign team in last year's US presidential election.
Pressure for the appointment had been mounting since President Trump fired the last FBI chief James Comey last week.
The FBI and Congress are already investigating possible links between the president's campaign team and Russia over the election; US intelligence agencies believe Moscow tried to influence the outcome in Trump's favour.
"A thorough investigation will confirm what we already know – there was no collusion between my campaign and any foreign entity," the president said in a statement.
Republicans and Democrats in Congress have welcomed Mueller's appointment, which was made by the Deputy Attorney General Rod Rosenstein.
"To bring in someone like Robert Mueller that has already worked within the FBI that it looks like he's going to work within the FBI process, you've got a prime decision maker they're working within the process. It's a good hybrid to be able to keep the career folks at FBI and to be able to make sure they can continue their job. But you have an independent person as the final decision maker in the direction," said Republican Senator James Lankford.
Robert Mueller as #SpecialCounsel for DOJ's Russia probe is positive news. Mueller & Intel Cmte will both follow the facts wherever it leads

— Sen. James Lankford (@SenatorLankford) May 18, 2017
"I was very, very pleased, first that he was appointed, and second that it was Bob Mueller who is a terrific guy with unimpeachable integrity. So I was very pleased to see that," said Democratic Congressman Jim Himes.
"I think it's a good start in the right direction. This administration with the new president has been in crisis from week to week. One thing after the other," added another Democrat, John Conyers.
In an otherwise sordid week, I am very pleased w/the appointment of Bob Mueller as special prosecutor. Great integrity, deep respect at FBI.

— Jim Himes (@jahimes) May 17, 2017
The appointment follows a week of turmoil for the White House.
There have been allegations that Trump disclosed classified information to senior Russian officials in a meeting at the White House.
Earlier this week it was claimed that former FBI director James Comey, who was fired by Trump, wrote in a memo that the president had asked him to end an investigation into ex-national security adviser Michael Flynn's ties with Russia.
The reports raise questions about whether the president improperly tried to interfere with a federal investigation.
It's thought the investigations now to be led by Mueller could last for several years – threatening to cast a long shadow over the Trump presidency.
Trump's worst nightmare comes true — he fired Jim Comey and got Robert Mueller instead https://t.co/qkUEyb7MZx

— Blake Hounshell (@blakehounshell) May 18, 2017