SPD face stiff challenge in home state North Rhine-Westphalia
Comments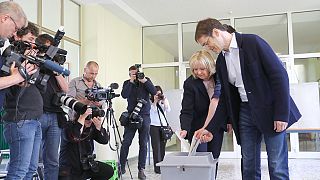 It is the final state election in Germany before September's federal contest, and it is in the biggest state, North Rhine-Westphalia.
Eighteen million people live here, and the Angela Merkel's CDU is hoping to wrest control from the opposition SPD.
Armin Laschet wants to upset the left's near-total postwar domination here but the SPD's
Hannelaure Kraft has run the state for a long time. She faces criticism for traffic problems, crime, above-average unemployment and a creaking education system.
On the streets opinion seems divided when asked the question "what do you hope for?"
"A change at last. So that we can forget those 50 plus years that the SPD is in power," said one older man.
"I want a strong SPD, CDU and FDP, because I think those are the parties that may actually be able to improve things," said a younger man.
However it is the smaller parties of hard left and right that could get enough support to enter the local assembly, with the big two locked at around 30% each in opinion polls, and thus a share of coalition power.
Even being forced into power-sharing in its bastion represents a huge setback for the SPD, especially this close to the national vote.