US-backed Syria militias 'seize Tabqa' in step towards Raqqa assault
Comments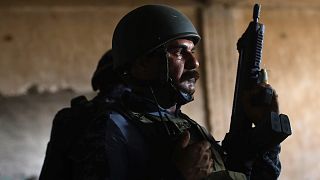 US-backed Syrian militias say they have fully seized the town of Tabqa and the country's largest dam from the so-called Islamic State.
The Syrian Democratic Forces or SDF, an alliance of Kurdish and Arab fighters, have been battling the militant group for weeks in the town some 40 kilometres west of Raqqa.
The advance is seen as a major step ahead of an assault on the militants' biggest urban stronghold.
Meanwhile a pro-Syrian government military media released a video showing the battle between the army and ISIL forces in the countryside in Homs province.
Filmed on Wednesday, it purports to show ISIL being targeted – and reportedly losing ground – after air raids on suspected desert posts.
According to the government news agency SANA, the army established control of several areas and a number of ISIL fighters were killed.