Syria: Rebels evacuated from besieged Damascus suburb
Comments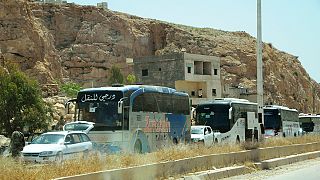 For the first time in Syria's conflict, rebels and their families have been evacuated from a district of Damascus besieged by regime forces.
Hundreds of people were given safe passage from Barzeh district to the northern opposition stronghold of Idlib province, under a deal with the government, according to state media and the British-based war monitoring group, The Syrian Observatory for Human Rights.
On arrival, one man said: "We are still in our country but we are angry with those who betrayed us. We were living under siege and we used to eat rotten bread. We also ate grass for about three months."
Syrian President Bashar al-Assad has promoted the use of such evacuations, along with what his government calls "reconciliation" deals for rebel-held areas that surrender to the government, as a way of reducing bloodshed.
However, the United Nations has criticised both the use of siege tactics which precede such deals and the evacuations themselves as amounting to forcible displacement.
Barzeh, at the northeast edge of Damascus and near the rebel-held Eastern Ghouta pocket of towns and farms, has been the site of intense fighting in recent months.
The evacuation deal comes after Russia brokered a separate agreement for "de-escalation" zones in Syria, backed by fellow regime ally Iran and opposition supporter Turkey.
with Reuters