Macron will heal 'divisions' after landslide French election win
Comments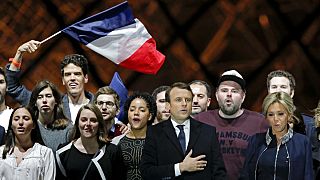 Political newcomer Emmanuel Macron has comfortably won the French election, defeating far-right, anti-EU rival Marine Le Pen.
With the vast majority of the votes counted, the centrist has around 65% of the share compared to Le Pen's 35% in Sunday's run-off.
But it was a record performance for the National Front, who won support for its anti-globalisation and anti-immigration policies.
Le Pen's tally was almost double the score of her father and National Front founder Jean-Marie, who was trounced by the conservative Jacques Chirac in the presidential run-off in 2002.
The election was one of the most bitterly-fought and unpredictable in decades, marred by scandals, leaks and data hacks.
Macron's emphatic victory, which has smashed the dominance of France's mainstream parties, will bring huge relief to European allies who had feared another populist upheaval to follow Britain's vote to quit the EU and Donald Trump's election as U.S. president.
Follow us here for live updates:
In a rousing victory speech outside the Louvre in central Paris, the president-elect recognised the deep divisions in France.
He broke off from his speech to stop the crowds from booing at the mention of far-right voters.
"I will do all I can to during the next five years so that no-one ever has a reason again to vote for extremists," he said.
Joined by his wife Brigitte, he urged campaigners to help him build a parliamentary majority, crucial if he is to easily carry out his planned reforms.
"Our task is huge," he warned.
He earlier made a more solemn speech at his campaign headquarters, vowed to rebuild the link between "Europe and its people".
Macron will become the eighth – and youngest – president of France's Fifth Republic when he moves into the Elysee Palace after his inauguration next weekend.
The 39-year-old former investment banker, who served for two years as economy minister under Hollande has never previously held elected office.
Macron's immediate challenge will be to secure a majority in next month's parliamentary election for En Marche! (Onwards!), his political movement that is barely a year old, in order to implement his policies.
Far-left presidential candidate Jean-Luc Melenchon, defeated in the first round of the election, said Macron is planning "a war on the French social system" and called on his voters to mobilise against the ex-banker in parliamentary elections in June.
Conceding defeat, Le Pen told her supporters: "The National Front… must deeply renew itself in order to rise to the historic opportunity and meet the French people's expectations.
"I will propose to start this deep transformation of our movement in order to make a new political force."
President of the European Commission Jean-Claude Juncker congratulated, Macron, a keen defender of the EU.
He said: "I am delighted that the ideas you defended, of a strong and progressive Europe, which protects all its citizens, will be those that you will carry into your presidency in the debate about the history of Europe."
US president Donald Trump, who previously suggested Le Pen would benefit in the polls from a recent suspected terrorist attack in Paris, tweeted that "I look very much forward to working with (Macron)".
Meanwhile in Paris, demonstrators protested against both Le Pen and Macron.
It came after the highest level of second round abstention in decades, 24.8%, with many voters dismayed at the choice between an ex-banker and a far-right firebrand.