Fighting reported in Hama, as 'safe zones' come into force
Comments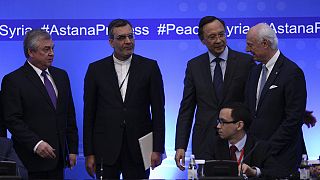 Syrian government forces have reportedly been clashing with rebels in the northwestern province of Hama, shortly after a Russia-led deal to establish 'safe zones' came into force.
There was no initial indication of any casualties.
Iran and Turkey have backed the de-escalation plan, but it has not been made public, so its contents are unclear.
"A constructive attitude by Iran and Turkey, who supported the idea of strengthening the ceasefire regime, played an important role in the timely preparation of the memorandum for the signing," said Alexander Fomin, Russian Deputy Defence Minister.
"At the same time, support of the document by the US administration and the leadership of Saudi Arabia and other countries is an additional guarantee for its implementation."
It appears the aim of the zones is to stop conflict between government forces and rebels in specific areas, which could be policed by foreign troops.
The Syrian government supports the de-escalation plan. But rebels reject the deal, saying they will not recognise Iran as a guarantor of any ceasefire.