Archbishop of Canterbury prays at River Jordan
Comments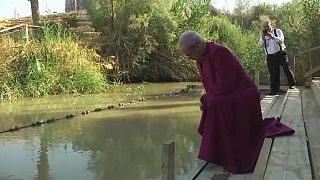 Archbishop of Canterbury, Justin Welby, has prayed at the River Jordan, historically believed to be the site of Jesus' baptism.
The religious head of the Church of England made the stopover during a tour of the Middle East.
Also recognised as the symbolic chief of the worldwide communion of Anglicans, he called on the region's embattled Christians to remain in the birthplace of their faith.
Large numbers have fled the Middle East in recent years amid conflict and the rise of Islamist extremism.
He used the occasion to meet Iraqi Christian refugees and visited displaced Syrians in the Zaatari camp, which has earned the nickname 'Jordan's fourth biggest city'. The Archbishop was due to move on to Israel later on Wednesday (May 3).