Iraqi policemen killed in Baghdad car bombing
Comments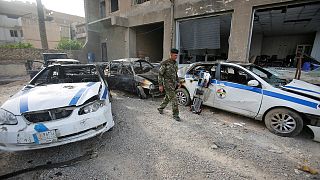 Four Iraqi traffic policemen have been killed when a car bomb was detonated outside their station in an attack claimed by the so-called Islamic State.
Five people were also wounded in the blast in the capital's Karrada neighbourhood.
The attack comes as Iraqi forces struggle to push back ISIL forces in the northern city of Mosul, the last key stronghold of the jihadist group in the country.
Government forces have surrounded the militants in the northwestern quarter, including the Old City, which is home to the Grand al-Nuri mosque, where their leader, Abu Bakr al-Baghdadi, declared a "caliphate" over parts of Iraq and Syria in 2014.
Earlier in the week, Iraqi troops captured Hatra, cutting off several desert routes used by ISIL to move between the two countries.