Sanctions and diplomacy at centre of US strategy on North Korea
Comments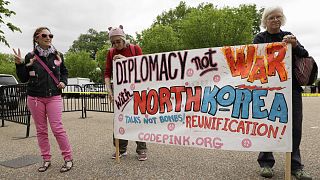 Amid an escalating standoff with North Korea, the US is seeking to tighten economic sanctions and pursue diplomatic measures with the aim of pressuring Pyongyang into dismantling its nuclear and missile programmes.
Trump's administration had previously said military strikes were an option, but now appear willing to exhaust non-military avenues.
The statement came after an unusual White House briefing for the entire Senate.
US Senators had called for a clear strategy to deal with what they deemed a major national security threat after repeated missile tests by Pyongyang.
"I was reassured that the Trump administration, Secretary Tillerson and others, are consulting all of our allies in the region and China to reduce the likelihood of a miscalculation, a misunderstanding. Given the unpredictability of the North Korean regime, though, this is certainly an unsettling situation and one where we all should take it very seriously," Senator Chris Coons, Democrat of Delaware state told reporters.
The US is hoping for more support from China, but Beijing has been angered by the deployment of America's Terminal High Altitude Area Defense, or THAAD, missile defense system in South Korea.
However, the top US commander in the Pacific, Admiral Harry Harris told Congress on Wednesday, that the threats from North Korea needed to be taken seriously.