Palestine shuts up shop to support hunger-striking prisoners
Comments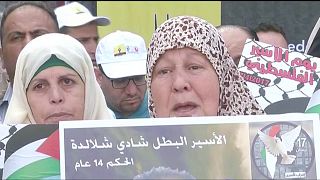 Businesses have closed their doors in the West Bank in a gesture of solidarity with Palestinian prisoners on hunger strike in Israeli jails.
The prisoners' hunger strike was sparked by a call from Marwan Barghouti, who is widely tipped as the next Palestinian leader despite currently serving five life sentences in Israel. He wrote an article: which appeared in the New York Times justifying his action.
Palestinians say that they are concerned about poor prison conditions and Israel's policy of detention without trial, which has been used in thousands of cases since the 1980s.
the whole world on strike
The mother of Shadi Shalate, one of the prisoners on hunger strike, told reporters:
"My motivation is my son, my son who is neither eating nor drinking. I call for the whole world to stand in solidarity, not only Palestinian President, Mahmoud Abbas, but the whole world. We are not waiting for the government factions: we and the whole world should go and protest, get the cars to stop, the whole world to stop."
A thousand Palestinian prisoners are on a hunger strike. This woman is fighting for their rights. pic.twitter.com/7NRzapf47Z

— world politcal news (@worldpolit) April 27, 2017
Palestinians united
In a rare show of unity between the two Palestinian territories, Gaza has joined the West Bank to voice its solidarity with the prisoners.
Qadura Fares, the head of the Palestinian Prisoner Club, said:
"This day is special because the Palestinian people are uniting behind the prisoners in their battle, their uprise against injustice. Today proves that, since 10 years, Gaza and the West Bank have united in one activity, today this has been achieved, which proves that the Palestinian people are united by struggle and resistance and are divided by politics."
Israel's reaction
Israel has said that it believes the hunger strike is politically motivated, and that many of the prisoners have been convicted of attacking, or planning attacks against, Israel.