Ivanka booed in Berlin as she defends Donald
Comments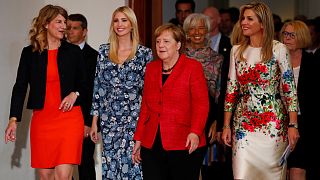 Ivanka Trump was booed in Berlin when she described her father, Donald, as a "tremendous champion of supporting families".
He (Donald Trump) has been a tremendous champion of supporting families and enabling them to thrive

First Daughter
During a podium discussion in Berlin at a women's summit organised by the G20 group of major economies, Trump said she is still working out how she could make an impact and trying to learn from others.
At the event in Berlin, she discussed support for women entrepreneurs with German Chancellor Angela Merkel and International Monetary Fund head Christine Lagarde, among others.
Berlin summit audience grills Ivanka Trump on her role as first daughter https://t.co/0XiQrGI2HT

—

POLITICO

Europe (@POLITICOEurope) 25 avril 2017
What Ivanka said
Asked whether she represented the president, the American people or her business, she replied: "Well, certainly not the latter, and I am rather unfamiliar with this role as it is quite new to me too. It has been a little under 100 days."
"This is very early for me. I am listening, I am learning, I am defining the ways in which I think that I will be able to have impact. I am seeking the counsel of informed and thoughtful women and men and I am really striving to think about how best to empower women in the economy, both domestically and across the globe."
Discussing "The Donald"
During the Berlin discussion, Donald Trump tweeted that he was "proud" of Ivanka for "her leadership on these important issues."
Proud of IvankaTrump</a> for her leadership on these important issues. Looking forward to hearing her speak at the W20! <a href="https://t.co/e6Uajrm8zp">https://t.co/e6Uajrm8zp</a></p>— Donald J. Trump (realDonaldTrump) 25 avril 2017
Asked about whether some of the attitudes expressed by her father might question whether he really wants to empower women, Ivanka insisted he believes in women's potential.
"I grew up in a house where there were no barriers to what I could accomplish, there was no difference for me and my brothers and I think as a business leader you saw that and as a president you will absolutely see that," she said.
"He (Donald Trump) has been a tremendous champion of supporting families and enabling them to thrive"
"I've certainly heard the criticism from the media and that's been perpetuated but I know from personal experience, and I think the thousands of women who have worked with and for my father for decades when he was in the private sector are testament to his belief and solid conviction in the potential of women and their ability to do the job as well as any man."
Ivanka says Donald Trump supports women, international women's panel audience REALLY disagrees https://t.co/rEcODpiVTLpic.twitter.com/incfQQYlMg

— Mashable (@mashable) 25 avril 2017
An unusual appointment
Ivanka Trump is seen as an increasingly important influence on her father.
However, her appointment as an adviser, with access to classified information, was highly unusual for the daughter of a president.
The 35-year-old last month said she would serve in the White House in an unpaid, informal role.
What the media say
Ivanka's visit has provoked strong media interest.
#Ivanka#Trump in #Berlin: Tochter des US-Präsidenten soll das Eis brechen https://t.co/os4uxbitESpic.twitter.com/WtR5csRidD

— Berliner Zeitung (@berlinerzeitung) 25 avril 2017
The newspaper Berliner Zeitung says German officials would "certainly be hoping that the president's daughter will convey a positive image of Germany to her fahter as a result of her short visit."
Ivanka #Trump ist heute zu Besuch in Berlin. Die polizeiberlin</a><br>rechnet mit Straßensperrungen und Protesten. <a href="https://t.co/raRJHWLpJE">https://t.co/raRJHWLpJE</a> <a href="https://t.co/MihHGbURSW">pic.twitter.com/MihHGbURSW</a></p>— Der Tagesspiegel (tagesspiegel) 25 avril 2017
Der Tagesspiegel took a more critical line, saying that Donald Trump's reliance on family members amounted to a "vote of no confidence" in the other members of his staff.