Global operation nets millions of euros worth of fake food and drink
Comments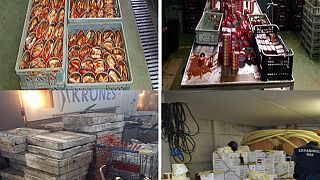 Fraud in the food market has been the target of a massive global operation, with the seizure of 230 million euros worth of fake food and drinks.
A joint operation by Interpol and Europol was carried out in 61 countries, with the focus on counterfeit and substandard products.
Authorities say the organised crime networks behind the illegal trade have also been targeted.
.INTERPOL_HQ</a> SEIZED: 9,800 tonnes & 26.4 million litres of hazardous fake food & drink, incl. mineral water, seasoning cubes, seafood & olive oil <a href="https://twitter.com/hashtag/Opson?src=hash">#Opson</a> <a href="https://t.co/Y65N7vNdff">pic.twitter.com/Y65N7vNdff</a></p>— Europol (Europol) 25 avril 2017
In a statement, investigators said: "The operation has once again shown that criminals will fake any type of food and drink with no thought to the human cost as long as they make a profit."
In Germany, for example, the operation focused on undeclared peanuts, cashew nuts and almonds in imported hazelnut products.
Bérengère Dréno from Europol said: "You will not notice it, because the taste will more or less be the same. But if you are allergic you will definitely notice it. And you, obviously, can die from of it."
Investigators say the items seized included everything from alcohol and mineral water, to seasoning cubes and olive oil.
Luxury items including caviar have also been seized.
The operation was carried out between December last year and March this year, with the help of police, customs and regulatory agencies.
Tens of thousands of checks were carried out in shops, markets and warehouses.
"While thousands of counterfeit goods have been taken out of circulation, we continue to encourage the public to remain vigilant about the products they buy," said Françoise Dorcier from Interpol.