From the EU to Trump, the world reacts to French vote
Comments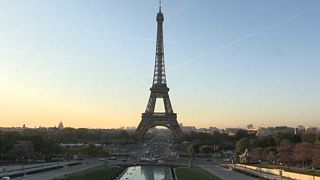 International reaction to the results of the first round of the French presidential ballot has been pouring in.
For centrist Emmanuel Macron, positive messages came from the likes of the European Union's foreign policy chief.
Federica Mogherini said: "Seeing French and EU flags together, welcoming the results of Emmanuel Macron, that's the hope and future of our generation:"
Voir les drapeaux de la #France et de l'#UE saluer le résultat de emmanuelmacron</a>, c&#39;est l&#39;espoir et le futur de notre génération</p>&mdash; Federica Mogherini (FedericaMog) April 23, 2017
A Tweet from the spokesman of the European Commission President said: "Juncker congratulates Macron for his result in the first round and wishes him good luck for the next step."
.JunckerEU</a> a félicité <a href="https://twitter.com/EmmanuelMacron">EmmanuelMacron pour son résultat au premièr tour et lui a souhaité bon courage pour la suite. #Presidentielle2017

— Margaritis Schinas (@MargSchinas) April 23, 2017
A Tweet from the German government (German government spokesman Steffen Seibert) said: "It's good that Emmanuel Macron succeeded with his programme for a strong EU and strong social market economy. I wish him all the best for the next two weeks."
Gut, dass EmmanuelMacron</a> mit seinem Kurs für eine starke EU + soziale Marktwirtschaft Erfolg hatte. Alles Gute für die nächsten 2 Wochen.</p>&mdash; Steffen Seibert (RegSprecher) April 23, 2017
For far-right candidate Marine Le Pen, the Kremlin said it respected the first round results, denying it supported the far-right candidate and saying it hopes to have good relations with France.
But the head of the foreign relations committee of the Russian Lower House, Konstantin Kosachev, said: "First impressions from French election is that it resembles the fight between Clinton and Trump in the US, between the desire to stick to the old policies on one side and the hope for change on the other.
"As expected, the losing candidates are already supporting Macron. Le Pen can count only on herself. But hope dies last."
Trump, who has been outspoken in his support for Le Pen, was less forthcoming, simply Tweeting: "Very interesting election currently taking place in France.
Very interesting election currently taking place in France.

— Donald J. Trump (@realDonaldTrump) April 23, 2017