Le Pen "takes break" as party leader to focus on presidential campaign
Comments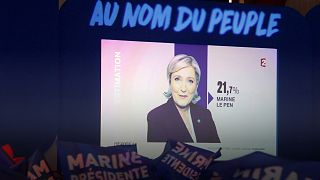 The French National Front leader says she is "taking a break" as party leader to focus on her presidential campaign ahead of a run-off vote in two weeks' time.
Marine Le Pen's comments in a TV interview appear to be just a formality as she attempts to win more support in the contest against Emmanuel Macron.
Le Pen said: "I have always considered that the President of the Republic is the president of all French people, and in this function needs to bring all of the French together.
"That's why it seemed essential to me to take a break from the presidency of the National Front.
"Tonight I am no longer the president of the National Front, I am the presidential candidate."
Meanwhile, further demonstrations have been held by those upset that Le Pen made it through to the run-off vote.
After rallies and clashes in the Place de la Bastille on Sunday night, protesters gathered at the Place de la Republic in a demonstration organised by the group SOS Racism.