New footage shows diners taking cover during Paris shooting
Comments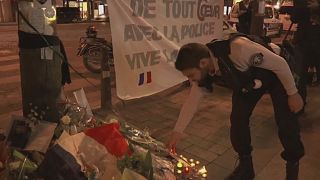 Dramatic footage has emerged of a the moment a family take cover when a gunman open fires on the Champs Elysees Avenue.
The footage of the attack, which left one police officer dead and two others wounded, was taken inside a restaurant close to the scene.
Businessman Mohannad Sulaiman Alnoaimi filmed the scenes his mobile phone during a work trip to the city.
He said: "Suddenly we hear a sound just like a fire, fire shooting.
"We didn't know whether it was fire or no, it was very quick after the first ten seconds or twenty seconds the fire came back again.
Champs Elysées shooting: what we know https://t.co/tecJdf9Ja6pic.twitter.com/x7BwRdJX5a

— euronews (@euronews) April 21, 2017
"We recognised that there was a fire shooting behind us directly, the people started screaming, shouting, running around the place."
The gunman has been identified as a French national with a heavy police record but who was not on France's terror watch list.
He was shot dead by police at the scene.
More than a hundred police officers gathered to remember their colleague, 39-year-old Xavier Jugele.
The late-night vigil was also attended by members of the public.