Paris gunman had long police record but was not on terror watchlist
Comments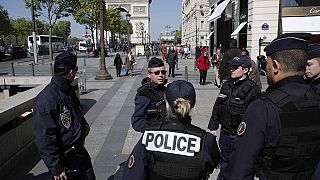 The Champs Elysees gunman who killed one cop and wounded two others had a heavy police record but was not on France's terror watch list, the Paris prosecutor said.
The gunman was identified by his fingerprints as Karim Cheurfi, 39. A French national, he lived with his mother in the eastern Paris suburb of Chelles and had spent some 14 years in prison from 2001 for crimes including gun attacks on law enforcement officers.
"He was not on the security watch list and had shown no signs of radicalisation despite his many years in prison," prosecutor Francois Molins told a news conference.
The man was shot dead at the scene. In his car, police found a shotgun, two large kitchen knives and a copy of the Koran.Investigators are now trying to assess whether he had any accomplices.
A piece of paper found near his body carried a handwritten note defending ISIL's cause, Molins said. Several other pieces of paper where found between the seats of his car, carrying the addresses of several police services, he added.
As well as killing one 37-year-old policeman, the gunman wounded two other officers and a woman who was passing by.
The Latest: Shotgun, knives found in gunman's car in Paris. https://t.co/R7sbrzHFX6

— The Associated Press (@AP) April 21, 2017
Paris gunman's criminal past in focus as police seek possible accomplices https://t.co/F4vXT35P4Bpic.twitter.com/U8bLrALcoV

— Reuters UK (@ReutersUK) April 21, 2017
A grudge against police
In Chelles, Cheurfi's home was raided on Friday morning by police searching for evidence of links with ISIL, which claimed he was acting on their behalf.
But neighbours said they did not believe he was an Islamist militant. They said he wasn't even a practising Muslim. "He drank, he smoked. It can't be true," one neighbour said, speaking on condition of anonymity.
However, several described Cheurfi as holding a long-standing grudge against French police.
Cheurfi served 10 years in prison after firing on two plainclothes officers in 2001 as they tried to apprehend him in a stolen car. While in detention, he shot and wounded a prison officer after seizing his gun.
Released on probation in 2015 from a further two-year jail term imposed for lesser offences, Cheurfi was arrested again in February of this year after threatening to kill police officers – but he was released for lack of evidence.
Before that arrest, he travelled to Algeria for about a month despite probation conditions forbidding him to leave the country, Molins said, adding that the judge had opted not to send Cheurfi back to prison, again for lack of evidence.
Paris killer Karim Cheurfi 'was a loner with few interests', his former lawyer has said https://t.co/ATvq24mypZpic.twitter.com/gmeRnfX3OR

—

ITV

News (@itvnews) April 21, 2017