North Korea UN envoy warns of possibility of nuclear war
Comments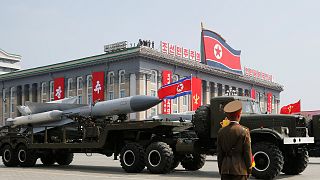 North Korea has accused the US of 'creating a situation where nuclear war could break out at any time'. Pyongyang's deputy ambassador to the UN slammed Washington's naval build up in waters off the Korean peninsula, as well as the missile strikes in Syria.
"The United States is disturbing the global peace and stability and insisting on the gangster-like logic that its invasion of a sovereign state is decisive and just and proportionate," Kim In Ryong, Deputy Permanent Representative of the Democratic People's Republic of Korea (DPRK) to the United Nations said.
His comments came just hours after US vice president Mike Pence visited a demilitarised zone that separates North and South Korea.
He issued a warning that the recent strikes in Syria and Afghanistan showed that President Trump's resolve should not be questioned.