North Korea show of strength as US tensions rise
Comments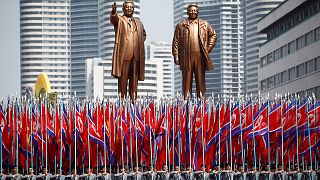 Click here for an updated version of this story.
North Korean leader Kim Jong-un presided over a military show of strength in Pyongyang on Saturday, as tensions with the US reached boiling point.
A military parade was held to mark the "Day of the Sun", honouring Kim's grandfather and the reclusive state's first leader Kim Il-sung, on the 105th anniversary of his birth.
It comes as Pyongyang warned Washington to end what it called US "military hysteria" or face retaliation.
#DPRK kicks off military parade to celebrate 'Day of the Sun,' the 105th b-day of country's founder Kim Il Sung pic.twitter.com/5MexYNR6ri

— People's Daily,China (@PDChina) 15 avril 2017
All eyes are on the Trump administration's plans for North Korea, with concern growing since last week's US missile strike in Syria, in response to a deadly gas attack.
China, North Korea's sole major ally and neighbour, which nevertheless opposes its weapons programme, has called for talks to defuse the crisis.
Chinese Foreign Minister Wang Yi fears a conflict could break out "at any moment" and has warned there would be "no winner".
China calls for halt to U.S.-North Korea tensions https://t.co/dwUsNPJKg5pic.twitter.com/SNaq3VZXZc

— TIME (@TIME) 15 avril 2017
But as speculation mounts that Pyongyang is poised for a 'big event', a US aircraft carrier group is steaming towards the region.
American intelligence officials have reportedly said the US is ready to launch a preemptive strike with conventional weapons against North Korea if it is sure Pyongyang is about to stage another nuclear weapons test.