Three killed in gunfight at polling station in Turkey
Comments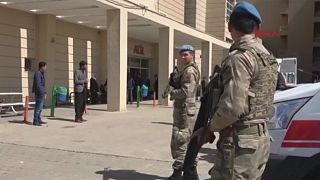 Three people have been killed during a gunfight at a polling station in the southeastern province of Diyarbakir in Turkey, according to local media.
Hurriyet daily reported the violence was sparked between two groups due to differing political views.
#Diyarbakir incident caused by 2 brothers on opposite sides, yes & no, shooting at each other. 1 dies + father, who tried to break them up.

— Diego Cupolo (@DiegoCupolo) April 16, 2017
Security forces were sent to the village and an investigation has been opened.
Elsewhere in Turkey there have been other reported incidences of violence.
Turkish journalist Ali Bayramoğlu, who recently announced he would vote "No," was attacked at his assigned voting site. dwnews</a> <a href="https://twitter.com/hashtag/Turkey?src=hash">#Turkey</a> <a href="https://t.co/oTeeqFlSKe">https://t.co/oTeeqFlSKe</a></p>&mdash; Diego Cupolo (DiegoCupolo) April 16, 2017
Tensions are high in the country, divided over a referendum vote to give more powers to the president. Both the campaign and the vote have taken place under a state of emergency declared after last year's failed coup and a series of bombings by both ISIL and Kurdish militants.
Though there have been few concerns voiced over potential fraud, there are worries about recent dismissals and arrests in the judiciary linked to the failed coup, including the Supreme Election Board, which has the final say on any vote disputes.