Syria evacuees arrive in shelter near Aleppo
Comments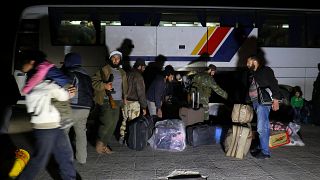 An operation to move Syrian civilians out of two Shi'ite villages besieged by rebels and into government territory resumed overnight.
People had been stranded at two transit points on the outskirts of Aleppo after an agreement between the warring sides stalled.
The families were forced to wait for more than 28 hours to cross into government-held areas.
They have since been received in a shelter on Sunday after arriving in Jibrin near Aleppo.
Both pro-Damascus media and a foreign-based monitoring group have reported the deal being resumed with buses crossing into both government and rebel-held territory.
The death toll from an attack on the crowded bus convoy on Saturday has reached at least 112, according to the UK-based Syrian Observatory for Human Rights.
It said those killed were mostly residents of two villages in Idlib province but included rebel fighters guarding the convoy. Children too were among the victims.
There was no immediate claim of responsibility for the attack, which pro-government media said was carried out by a suicide car bomber.