Three die in California primary school shooting
Comments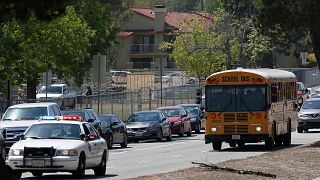 Police in California have identified the gunman who shot dead a teacher and wounded two pupils, one of the fatally.
He has been named as 53-year-old Cedric Anderson who had gained entry to the school as a visitor and kept his weapon concealed until he opened fire in the classroom where 15 children with special needs were being taught.
The teacher was his estranged wife, Karen Elaine Smith.
A second pupil was badly wounded by the gunman, who authorities said had a criminal history that included weapons charges and domestic violence that predated his brief marriage to the dead teacher.
"Cedric entered the classroom. And from what we understand without saying anything, armed with a large caliber revolver, opened fire on his wife. She was killed in that exchange. There are two students in the classroom that were behind the teacher that were struck by gunfire. One of those children is identified as Jonathan Martinez. Tragically he has passed away," reported Police Chief Jarrod Burguan.
Burguan went on to say the shooting at North Park Elementary school in San Bernardino was an apparent murder suicide.
The same city made national headlines in 2015 when a couple said to have been inspired by Islamic extremism killed 14 people at an office party.
An estimated 10,000 people are murdered with guns each year in the United States, according to federal crime statistics.
Hey realDonaldTrump</a>, <a href="https://twitter.com/GOP">GOP— Why so silent about the San Bernardino elementary school murders? NRA</a> cash got your tongue? <a href="https://t.co/2HWEdDphGa">pic.twitter.com/2HWEdDphGa</a></p>&mdash; Emma Vigeland (EmmaVigeland) April 10, 2017
When will Congress stand up to the gun lobby so educators, students and first responders don't have to stand up to gunmen?

San Bernardino pic.twitter.com/z58ms5RPYQ

— Shannon Watts (@shannonrwatts) April 10, 2017