Iraq: battle for western Mosul hampered by ISIL tactics
Comments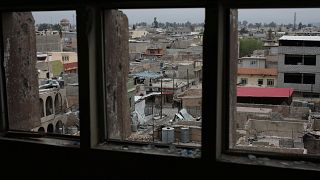 The so-called Islamic State group now only controls less than a fifth of the territory it held in Iraq in 2014, according to an Iraqi military spokesman.
The claim comes amid reports that the battle for western Mosul is turning out to be far more difficult than the campaign to retake the east.
Iraqi artillery units and coalition airstrikes seeking out ISIL militants have been targeting the area.
Military analysts say police units leading the charge have less training than the special forces who retook eastern Mosul.
"This fighting in the western side of Mosul has been difficult because of the enemy's tactics, of not only hiding amongst the civilian population but also actively pulling civilians into harm's way, surrounding their snipers with civilians, loading buildings that they are firing from with civilians and publicly executing civilians who are trying to escape the danger," said Colonel John L Dorrian, spokesman for the US-led International Coalitions.
The UN believes at least 300 people have been killed since mid-February when the operation started, with well over 1,500 treated in hospital.
The Iraqi health ministry put the number of dead at over 1,000.
The coalition battling ISIL is made of the Iraqi security forces and thousands of Shi'ite volunteers. The push has become bogged down with Iraqi security forces fighting in small streets in the old part of the city.
Video by Reuters shows extent of Damage in Western #Mosulpic.twitter.com/p338QRK4RK

— Conflicts Zone (@Conflictszone) April 11, 2017