Sweden mourns as police say 'device' was found in killer truck
Comments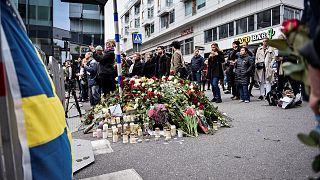 Crown Princess Victoria and fellow Swedes paid tribute to the victims of the Stockholm attack on Saturday, laying flowers at the spot where a killer lorry ploughed into pedestrians.
I feel an enormous sadness, I feel empty
The Royal laid a bouquet of red roses and told Aftonbladet TV that she felt "an enormous sadness, I feel empty".
She urged Swedes to unite in their grief.
Crown Princess of Sweden visiting scene of #Stockholm attack pic.twitter.com/F7NhM9WdDR

— Max Foster (@MaxFosterCNN) 8 avril 2017
Four people were killed on Friday when the stolen lorry rammed into a department store. Ten others, including a child, remain in hospital.
A 39-year-old from Uzbekistan, thought to have been the driver, was detained on Friday evening in a northern suburb of the Swedish capital on suspicion of terror crime through the act of murder.
It followed the circulation of pictures of a suspect, wearing a grey hoodie.
Police have released images of a man they want to trace "in connection with suspected terror attack in Stockholm". https://t.co/kQzR3MZTahpic.twitter.com/CDr3hz6ITo

— The Local Sweden (@TheLocalSweden) 7 avril 2017
The man detained was no stranger to the security services.
Swedish police chief Dan Eliasson told reporters:
"He was known… there was intelligence about him in the security police but…rather of a marginal character."
Police say a suspect device was found in the driver's seat of the truck though they have not confirmed it was a bomb, as media reports have claimed.
Swedish police chief confirms some kind of "device" was found on the truck, but they don't yet know if it was a bomb https://t.co/1r2UEoQW1S

— Emma Löfgren (@ekjlofgren) 8 avril 2017
The stolen vehicle rammed into a department store on Drottninggatan (Queen Street), sending shoppers running for their lives.
What was behind Friday's horror is still unclear. But Europe has seen several attacks in which cars or trucks have driven into crowds over the past year. So-called Islamic State has encouraged its followers to use vehicles as weapons.
Until now largely immune to any major incidents of this kind, Sweden will hold a memorial service and minute of silence for its victims on Monday.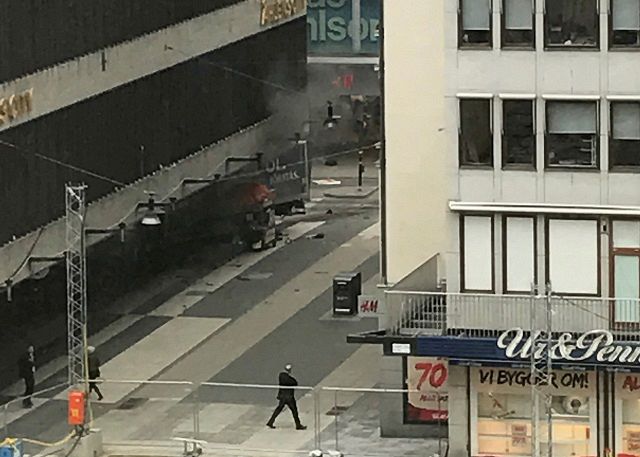 Photo: TT News Agency/Andreas Schyman/via Reuters
JUST IN: Video shows people fleeing after truck drives into crowd on street in Stockholm; police say there are several people injured. pic.twitter.com/2O6CUzngEP

— ABC News (@ABC) 7 avril 2017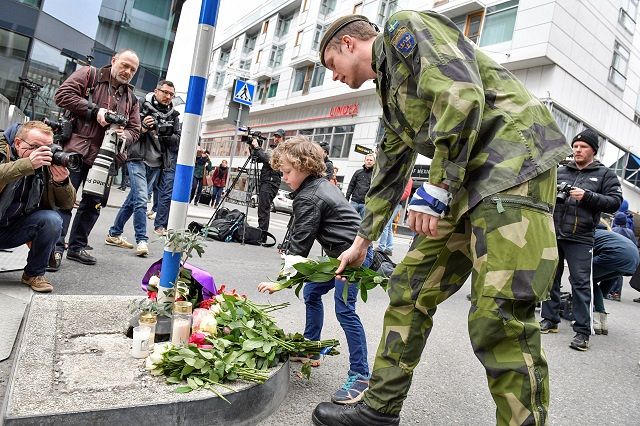 Photo: TT News Agency/Jonas Ekstromer/via Reuters
with Reuters