Stockholm attack: Truck driver suspect 'known to security services'
Comments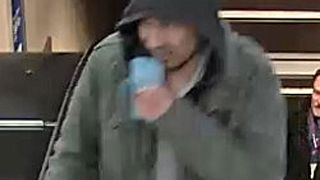 Police in Stockholm say a man in custody is thought to have been the driver of a lorry that ploughed into pedestrians on Friday, leaving four people dead.
You will not defeat us, you will not govern our lives, you will never, ever win

Swedish Prime Minister
A 39-year-old from Uzbekistan was detained on Friday evening in a northern suburb of the Swedish capital on suspicion of terror crime through the act of murder.
It followed the circulation of pictures of a suspect, wearing a grey hoodie.
Police have released images of a man they want to trace "in connection with suspected terror attack in Stockholm". https://t.co/kQzR3MZTahpic.twitter.com/CDr3hz6ITo

— The Local Sweden (@TheLocalSweden) 7 avril 2017
Stockholm attack: Police suspect arrested man was truck driver https://t.co/Qgxq5WkgAMpic.twitter.com/mZhdxMQkbq

— The Local Sweden (@TheLocalSweden) 8 avril 2017
Police say the man was known to security services and that a suspect device was found in the driver's seat of the stolen truck. They did not confirm if it was a bomb, as media reports have indicated.
Assistant Police Commander Jan Evensson urged the public not to travel to Stockholm city centre on Saturday unless absolutely necessary.
"We still have a crime scene investigation on which we have a huge job to do," he told a news conference.
Fifteen people including children were injured when the vehicle crashed into a department store on Drottninggatan (Queen Street) on Friday afternoon. Shoppers had to flee for their lives.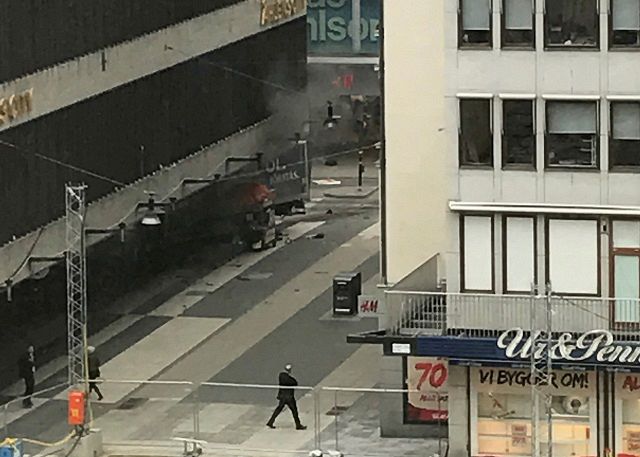 Photo: TT News Agency/Andreas Schyman/via Reuters
JUST IN: Video shows people fleeing after truck drives into crowd on street in Stockholm; police say there are several people injured. pic.twitter.com/2O6CUzngEP

— ABC News (@ABC) 7 avril 2017
Authorities said early on Saturday that six of the injured had been able to leave hospital while eight adults and one child remained hospitalised.
Swedish public broadcaster SVT reported that a second person had been detained and that he had a connection to the other man. Police declined to comment on whether any additional suspects had been arrested.
Over the past year, Europe has seen several attacks in which vehicles have driven into crowds. So-called Islamic State has encouraged its followers to use cars and trucks as weapons.
As yet, there has been no claim of responsibility for the bloodshed in Sweden.
"Our message will always be clear: you will not defeat us, you will not govern our lives, you will never, ever win," Prime Minister Stefan Lofven told a news conference.
He has described the assault as a terrorist attack and tightened security at Sweden's borders.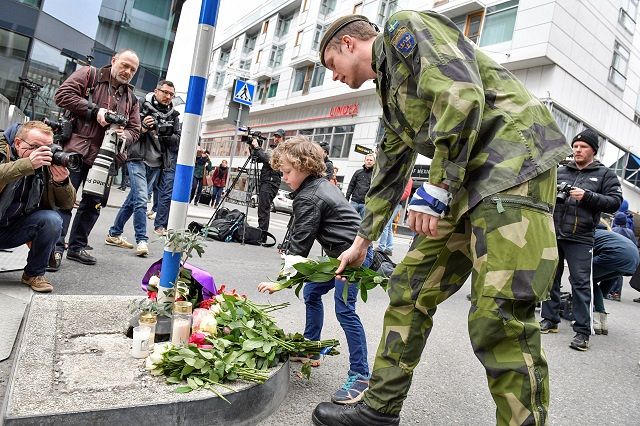 Photo: TT News Agency/Jonas Ekstromer/via Reuters
with Reuters