Sweden: four killed, 15 wounded as truck hits Stockholm crowd
Comments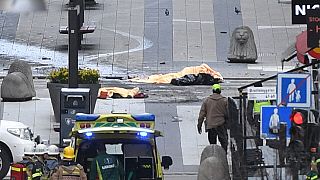 A lorry drove into a crowd on a busy shopping street in Sweden's capital Stockholm on Friday, killing four people and wounding 15, police said.
Prime Minister Stefan Lofven said everything indicated the crash was "a terrorist attack".
Swedish police said they had arrested one person, after earlier circulating a picture of a man wearing a grey hoodie. They did not rule out the possibility other attackers were involved.
There was no immediate claim of responsibility.
What we know
Just before 3 pm local time, a truck ploughed into a crowd on Drottninggatan (Queen Street), one of the city's main pedestrian streets, before crashing into a department store.
Part of central Stockholm was cordoned off and the area was evacuated, including the main train station. Large numbers of police and emergency services were at the scene. Parliament as well as the subway have been closed.
The lorry was hijacked earlier on Friday, its owner told local media. While it was making a beer delivery to a tapas bar further up the street, a masked person jumped into the cab, started the truck and drove away, a spokesman for Spendrups Brewery said.
"We were standing by the traffic lights at Drottninggatan (Queen Street) and then we heard some screaming and saw a truck coming," a witness, who declined to be named, told Reuters.
"Then it drove into a pillar at Ahlens City (the department store) where the hood started burning. When it stopped we saw a man lying under the tire. It was terrible to see," said the man, who saw the incident from inside his car.
Police and the emergency services were quickly on the scene as video showed people running away and witnesses spoke of people lying motionless on the ground.
"Sweden has been attacked. Everything points to the fact that this is a terrorist attack," Prime Minister Stefan Lofven told reporters during a visit in western Sweden. He was immediately returning to the capital.
Several attacks involving trucks or cars being driven into crowds have taken place in Europe over the past year. The number of dead from the most recent attack, in London on March 22, was raised to six on Friday with the news that a young Romanian tourist, Andreea Cristea, had died from her injuries.