Madrid dismisses ETA's planned disarmament
Comments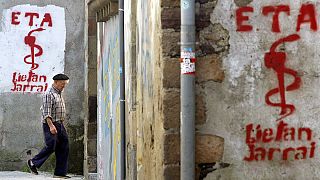 There have been mixed reactions after ETA said it will give up all its weapons this Saturday.
The move by the Basque separatists stops short of fully disbanding the organisation and Madrid, which refuses to negotiate with the group, has said ETA should not expect anything in return from the Spanish government.
On the streets of Bilbao, however, there was a more positive reaction to the separatists planned hand over.
"I really support the disarmament. I'm a sympathiser, not with ETA but with some of the political ideas. It is time to recognise that the people in this region deserve peace,'' one man said.
"In my opinion,it was about time. All the Basque society feels satisfaction after suffering terrorism for many years. Now this is what has to happen and I'm very happy that they have reached an agreement. I hope that everything goes well," said another woman.
ETA's decision to disarm came shortly after the Basque parliament called on it to give up its weapons on Thursday.
Founded to create a sovereign nation more than 800 people died in the group's quest to break away from Spain.