ETA militant group 'a disarmed organization'
Comments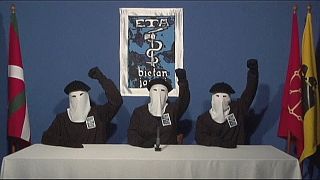 The Basque separatist group ETA has issued a statement informing the international community that "it is now a disarmed organization."
Spanish news agency EFE reports a letter has been sent to several Basque media claiming that the group has given up all its "arms and explosives to Basque civil society representatives", but the process is not fully completed.
"Disarmament day" is on Saturday (April 8), the letter states.
The group killed over 800 people in a more-than-40-year quest for an independent Basque state in northern Spain and southern France.
In 2011, it declared a ceasefire, but only handed part of its weapons to authorities.
In its letter, ETA claims "the process" is not fully completed. As recently as January, 2017, activists campaigned for the transfer of hundreds of jailed members to prisons nearer their families.