Spain on threshold of an end to ETA and domestic terrorism
Comments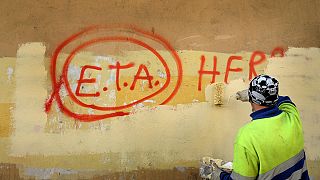 With a huge 65 seat majority the Basque parliament has voted to support ETA's declaration of disarmament. On April 6 the body demanded that the Basque terrorist organisation applies a complete, unilateral, definitive and verifiable surrender of weapons.
That was nowhere near enough for the parliament's nine MPs from the ruling Popular Party, who voted against.
"I would have loved to see this parliament requiring ETA to dissolve and vanish once and for all from our lives. They should recognise the pain imparted, of course they should beg for pardon and collaborate with authorities to investigate the unresolved crimes," said the Basque People's Party's Alfonso Alonso.
Euskadi Ta Askatasuna, or ETA, was born in 1959, sworn to oppose Spain's fascist ruler, General Franco. For 50 years, in the name of independence for the Basque country and Navarre, ETA waged its secret underground war, killing around 850 people, committing dozens of kidnappings, and extorting money from companies to finance operations.
The killing of a young PP municipal councillor, Miguel Ángel Blanco, in June 1997, triggered a wave of revulsion and unprecedented mass demonstrations against ETA.
In March 2006, ETA announced a permanent ceasefire.
But a bomb attack on Madrid's airport that December, which killed two people shattered the ceasefire and killed off negotiations that had begun between ETA and the Socialist government of José Luis Rodríguez Zapatero.
"I've ordered the suspension of all initiatives to develop the dialogue. I said from the beginning that the government knew it would be a long, hard and difficult process. Today has been a hard day," said Zapatero just hours after the attack.
In October 2011 ETA said it would call a "definitive end to its armed actions" without any conditions and it called on Madrid and Paris to join a direct dialogue leading to disarmament in return for a collective amnesty for ETA prisoners.
To this day the Spanish justice system has 224 unresolved ETA murders in its case files. To try and shed light on these killings the high court charged with terrorism, drug trafficking and other major crimes, the Audience Nationale, has opened an inquiry in Madrid into the scheduled disarmament.