Family of Chinese man shot dead by French police calls for calm
Comments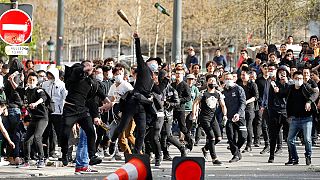 The family of a Chinese man shot dead by French police last week have called for calm following a series of protests which have ended in violent clashes.
The man's daughter, I Liu, told thousands of protesters on Sunday in central Paris that she was saddened by the prospect of further violence.
"Me and my family, we would be sad to see violence happen and that people who are supporting us are injured or arrested. Don't risk your life for justice, because I was born in France I believe that this county of justice will bring justice to my father and to my family. If the contrary happens, I know I can count on you."
#DeboutCommeJamais right now to protest against police violence in Republique #Paris. #JusticePourShaoyoLiupic.twitter.com/zYSG5uNLZf

— Global NuitDebout (@GlobalDebout) April 2, 2017
Later a group of about 300 tried to break through a police line and were met with tear gas.
It was during a police raid last Wednesday that the man, aged 56 was shot in front of his family .
The officers claim he had attacked them with a pair of scissors and they had acted in self defence. Witnesses deny this.
France is home to Europe's largest population of ethnic Chinese, a community that routinely accuses police of not doing enough to protect it from racism.
In September, 15,000 people rallied in the French capital to urge an end to violence against the Asian community after the beating to death of a Chinese tailor drew attention to ethnic tensions in Paris's immigrant-rich suburbs.