Tension in Chinatown following fatal shooting by Paris police
Comments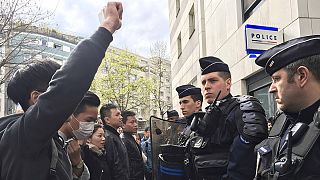 Hundreds of demonstrators have turned out for a second night in Paris's main Chinatown district following the shooting dead by police of a Chinese father of five on Sunday (March 26).
"We don't know the details for it but we just know that he lost his life so we just came here and we want to ask the police, we want to know the situation, we want to know the details," said one protester.
Police said they questioned 35 people after Monday's street protests in which three members of the police were treated for slight injuries.
#3Novices : Paris police hold 35 after violent demo over Chinese death https://t.co/dA2hNUE4Sg French police said Tuesday (Mar 28) they ha…

— 3NovicesAsia (@3NovicesAsian) March 28, 2017
In Beijing, the foreign ministry said it had summoned a French diplomat to explain events. It also sought a thorough investigation by French authorities and steps to be ensure the safety of Chinese citizens in France.
A vigil has been held for the dead man.
The 56-year-old was shot when officers came to investigate an altercation with a neighbour. Police say they acted out of self defence when the man attacked them with a pair of scissors – it's something which his family denies.