Police in Italy foil alleged plot to blow up Venice's Rialto Bridge
Comments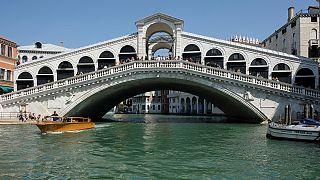 Police in Italy have arrested three Kosovan men and a child on suspicion of trying to blow up Venice's iconic Rialto Bridge.
The detentions follow a series of overnight raids in the northern Italian city.
Authorities say the alleged terror cell had expressed unconditional support for ISIL in wiretapped conversations. They said they had decided to target the historic landmark in the hope of killing hundreds of tourists.
The manager of the apartment building where the men lived said: "Around 4:00 am in the morning I saw that the staircase light was lit continuously. I went out onto the landing, I could hear voices coming from upstairs and saw the police. They had balaclavas and they told me to return immediately into my apartment.''
The group had been under surveillance for more than a year.
Police say they overhead the suspects celebrating last week's terror attack in London, in which five people, including the assailant died.
Venice's Deputy Prosecutor Adelchi D`Ippolito said:
"The alarm was raised with the the return of a Kosovan man from Syria. We have checked all the contacts. We also managed to enter and control all their movements over the internet."
Built in the 16th century, the Rialto Bridge is the oldest of four bridges spanning Venice's Grand Canal.
Millions of tourists cross it each year.