Geneva peace talks: Syria warns foreign forces to act legitimately
Comments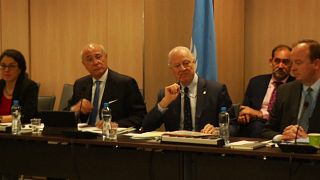 Round five of the Geneva peace talks on Syria has begun with a warning from the war-torn nation's chief negotiator.
Following a meeting with UN envoy Staffan de Mistura, Bashar al-Ja'afari told the media any military presence on Syrian soil without the government's prior approval would be considered illegitimate.
It came as France announced the battle to recapture the northern city of Raqqa from ISIL would begin in the coming days.
Ja'afari said a US- or Turkish-backed attack on the jihadist group in Raqqa would need to be coordinated by Syrian President Bashar al-Assad's government.
He labelled countries backing rebel groups 'sponsors of terrorism'. France, Britain and Turkey are among the nations supporting a number of rebel factions in Syria.
The verbal attack in Geneva came amid reports of clashes of a more violent nature in Hama.
Rebels have been making gains in the government-held city, where fighting has increased this week, despite a Russia-Turkey-brokered ceasefire in December.
Ja'afari said any offensive by groups opposing the government would be an effort to disrupt ongoing peace talks in both Switzerland and the Kazakh capital, Astana.