Theresa May tells MPs 'acts of normality' will defy terrorism
Comments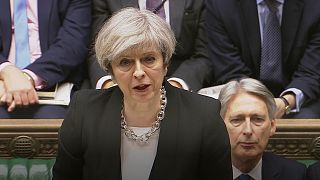 "Business as usual" was the message conveyed by the British prime minister as she addressed parliament, the morning after the attack on what she called the "world's oldest democracy".
We are not afraid and our resolve will never waiver in the face of terrorism
Theresa May paid tribute to the policeman who was killed. She said that PC Keith Palmer had been devoted to the service of his country. He was "every inch a hero" and his actions would never be forgotten.
"A terrorist came to the place where people of all nationalities and cultures gather to celebrate what it means to be free. And he took out his rage indiscriminately against innocent men, women and children," she said.
The prime minister described it as "an attack on free people everywhere", but she said the public would not be cowed in the face of the terrorist threat.
"Beyond these walls today – in scenes repeated in towns and cities across the country – millions of people are going about their days and getting on with their lives. The streets are as busy as ever, the offices full, the coffee shops and cafés bustling. As I speak, millions will be boarding trains and aeroplanes to travel to London and to see from themselves the greatest city on earth. It is in these actions, millions of acts of normality, that we find the best response to terrorism," Theresa May told MPs.
PM: We are not afraid. And our resolve will never waiver in the face of terrorism. https://t.co/bYB6NoyS2cpic.twitter.com/3uPbptMBpY

— UK Prime Minister (@Number10gov) March 23, 2017
A minute's silence was held in honour of the victims, who came from 11 different countries. A separate ceremony took place outside the London Metropolitan Police headquarters at New Scotland Yard.
As well as the policeman, teacher Aysha Frade is the first civilian named as having died in the attack.
Queen Elizabeth has sent her condolences, saying in a statement "my thoughts, prayers, and deepest sympathy are with all those who have been affected by yesterday's awful violence".
May also gave details of the perpetrator of the Westminster attack, saying the British-born man had been investigated several years ago for suspected violent extremism but was "not part of the current intelligence picture". The prime minister added that the "working assumption" was that he had been "inspired by Islamist ideology".
The attacker was later named as British-born Khalid Masood, 52, from the West Midlands.
The Amaq news agency, favoured by Islamist militants, has reported that the self-proclaimed Islamic State was responsible for the attack.
It was the worst attack in Britain since 2005, when 52 people were killed by Islamist suicide bombers who targeted the capital's transport system.