Westminster Bridge teeming with people day after terrorist attack
Comments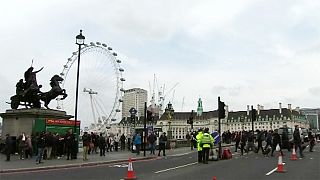 Shaken but remaining defiant … just a day after the terrible scenes on Westminster Bridge and outside parliament, people are going about their daily business in the same area.
It was the message that came from the Prime Minister Theresa May hours after the attack: that London will not be intimidated with fear, even though the terrorist alert level is high.
Morris Carey, a commuter from Wales, told reporters: 'It is something at the back of my mind, yes, it's got to be hasn't it? You know, I'm working up here.
"Whether it will happen again (makes the fingers crossed sign), you don't know. But life has got to go on, life has got to go on."
A commuter from Wimbledon, Nina Kosciolek, said: "It just makes me more determined that these awful people aren't going to get away with it.
"Why should we stop living our lives the way we do for these nutters?"
Just hours after the attack the government confirmed it would keep the terrorism alert level at "severe", just below the highest possible level "critical".
Authorities say people should continue with their normal daily lives but remain vigilant and immediately report anything suspicious.