Terrorists turn everyday objects into killing machines
Comments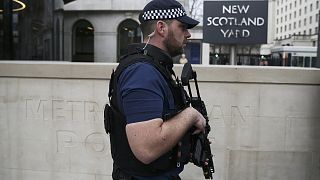 The Westminster attack that left four people dead and forty injured is not the first time that security personal and the civilians of London have become victims of terrorism.
On the morning of the July 7th, 2005 four Islamist extremists separately detonated three bombs in quick succession on the London Underground system during rush hour.
A fourth later exploded on a double-decker bus, 56 people lost their lives 700 suffered injuries.
Remembering today those injured and killed in the tragic terror attacks on London transport on this day in 2005. pic.twitter.com/oWrPgt6wO9

—

IOW

999 Pics/Vids (@IOW999Pics) July 7, 2016
The latest carnage included no bombs and no subterfuge, just a car and a knife.
These everyday articles have become the weapons of choice for Islamic terrorists and have been trumpeted by extremist websites and publications.
Since 2010 al-Qaeda has been encouraging the use of large 4×4 vehicles to move undetected through cities to inflict the maximum amount of carnage and spread fear.
On May 22, 2013, off-duty British soldier, Lee Rigby, was run over by a car then hacked to death by two men using a knife a meat clever.
They dragged his body into the road and waited for the police to arrive.
Such brutal methods have also been encouraged by ISIL.
The now dead spokesperson for the group, Abou Mohamed Al-Adnani, urged fanatical followers to plan as little as possible and use whatever came to hand to kill and maim.
In Quebec, Canada, in 2014 a 25-year-old convert to Islam rammed his car into two Canadian soldiers in a shopping centre.
NEWS 24/h Funeral Held for Soldier Killed in Quebec Car Attack pic.twitter.com/Ut7RtWM4oQ

—

NEWS

.U.S.A.@cwn24 +e (@EnergyDrinkRen) November 2, 2014
One of the men was killed the other injured.
The attacker was shot by police.
In July last year Mohamed Lahouaiej-Bouhlel, drove a truck into crowds celebrating Bastille Day in Nice.
Nice attack: What we know about the Bastille Day killings – https://t.co/HpuITX2kLCpic.twitter.com/wAfDGiioYA

— Citizen Daily News (@Citizen_Daily) July 16, 2016
The violence saw 86 people killed and 434 people injured.
The killer was shot by police.
Berlin was the next city to see residents slaughtered by a vehicle.
While attending a packed Christmas market by Kaiser Wilhelm Memorial Church 12 people were killed and 56 other injured after a truck mounted the pavement and ISIL acolyte Anis Amri committed mass murder.
At scene of Christmas Market terror attack in Berlin pic.twitter.com/yWPuKebMWN

— Bill Curry (@curryb) February 17, 2017
The methods used by terrorists are now extremely cheap and simple.
The lack of logistics, structure and planning make it difficult for intelligence services to thwart attacks in the pre-planning period or protect the public when they do occur.
Most agree that recognising radicalisation and monitoring are the most effective defences against attack and if they do occur governments have procedures in place to minimise the impact.
flickr gallery embed code