Martin McGuinness: mourners gather as coffin carried through streets
Comments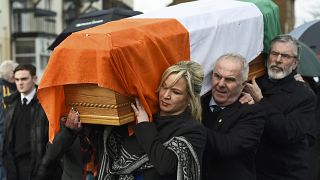 An Irish flag draped over the coffin, the body of Sinn Fein's Martin McGuinness has been carried through the streets of Londonderry also known as Derry and to his home.
The former IRA commander turned politician died overnight at the age of 66.
Sinn Fein president Gerry Adams joined throngs of mourners on the route. He paid tribute to McGuinness saying he was a "passionate republican who worked tirelessly for peace and reconciliation and for the reunification of his country."
His funeral will be held on Thursday.