Syrian forces bombard rebel positions on the outskirts of Damascus
Comments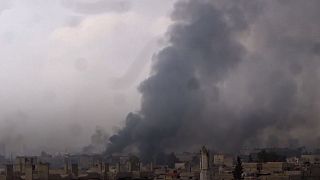 Syrian forces engaged in fierce fighting with rebels and jihadists on Sunday, responding to an onslaught with intense bombardments.
The escalation in violence marked an initial bid by rebels to relieve army pressure on besieged areas they control to the east of the capital.
The fighting began with car bombs and suicide attacks in the suburb of Jobar which were met with artillery fire from the army. Witnesses said tanks had been deployed in neighbouring areas with the sound of mortars continuing late into the night.
With the recapture of the city of Aleppo last December, President Bashar al-Assad's army reinforced its dominant position across the country. Since then it has been trying to break down rebel resistance in Damascus and reassert full control of the capital after six years of war.
On Wednesday (March 15) , at least 31 people were killed in a suicide bomb attack at the main court complex in the centre of Damascus. The attack came on the sixth anniversary of the uprising against Assad.