Dozens killed in air strike on mosque in Syria
Comments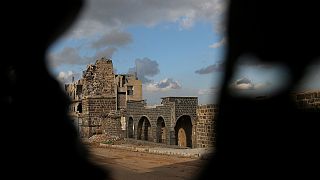 At least 42 people have been killed and dozens wounded, when an air strike hit a mosque in the rebel-held village of al-Jina, near Aleppo in Syria.
According to the British-based, Syrian Observatory for Human Rights, the jets struck at the time of evening prayer, meaning the mosque was crowded with worshippers.
A rescue volunteer of the Syrian Civil Defense, however, said more than 50 people were buried under the rubble.
Syrian and Russian military have carried out many air strikes in Idlib and Aleppo provinces during the conflict. US jets have also carried out strikes in recent months, targeting a rebel group which until last year was a formal affiliate of al Qaeda.
Al-Jina in the western Aleppo countryside, along with Idlib is home to hundreds of thousands of Syrians displaced by the fighting.