'Scarred for life': UNICEF says 2016 worst year for Syrian children
Comments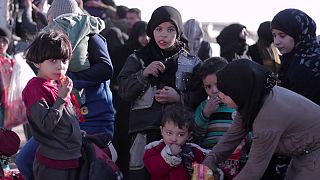 UNICEF is calling for international action after releasing figures showing 2016 was the most violent year on record for children in Syria.
Verified examples of killing, maiming and the recruitment of children to fight or carry out executions rose sharply as brutality escalated nationwide,
Killing & maiming of Syrian children highest on record in 2016. Read our report on 6 years of #ChildrenUnderAttack: https://t.co/Mn0p9qQBQapic.twitter.com/ltmRVz5Hq2

— UNICEF (@UNICEF) March 13, 2017
The number of children killed increased by 20 percent last year, although the UN agency says the full scale of the damage and suffering is hard to assess due to the difficulty of accessing a number of areas.
As the war enters its seventh year, UNICEF is pushing for sustained access to all of the almost six million children dependent on humanitarian aid.
It has labelled the depth of suffering "unprecedented", adding that "Each and every child is scarred for life with horrific consequences on their health, well-being and future."