Dutch-Turkey relations take a dive over turning away of Turkish ministers
Comments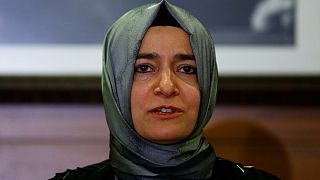 Relations between Turkey and the Netherlands have taken a dive, with Ankara reacting angrily after two of its ministers were stopped from addressing political rallies in the country.
The foreign minister's plane was refused landing rights in Rotterdam, where he was due to address ex-pats about a controversial upcoming referendum on plans to extend the powers of the Turkish president.
The Turkish minister of families then attempted to speak at the consulate in Rotterdam but was escorted across the border to Germany.
"We have been treated in an inhuman and informal manner, in the Netherlands, which says it's a country of freedom and democracy," said the minister, Fatma Betül Sayan Kaya.
"We had a painful night here. Our deputy ambassador was detained. Five people, my own guards and consultants, were taken into custody."
Supporters of the Turkish president clashed with police in Rotterdam after news spread of the barring of the ministers.
The Netherlands said the meetings were banned for security reasons, following the lead of authorities in several other European countries.