How EU countries have responded to Turkey rallies
Comments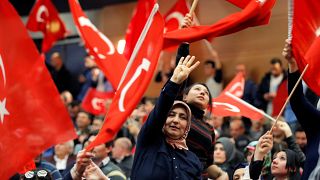 The Turkish government is seeking the support of its nationals in Europe for a referendum over enhanced powers for its president.
However, many countries are uneasy about foreign government officials, especially those from a government criticised for clamping down on democratic rights, campaigning on their territory.
In the absence of an EU-wide response, different measures have been applied.
Netherlands
Two Turkish ministers were prevented from addressing rallies. Foreign minister Mevlut Cavusoglu's plane was blocked from landing on his way to a rally in Rotterdam after the authorities withdrew permission for the event. When family affairs minister Fatma Betul Sayan Kaya arrived by car she was turned away by the police.
The Dutch government it was not right for a foreign political campaign to take place on its soil but also pointed to the danger of inflaming tensions ahead of its own elections.
France
Turkish foreign minister Mevlut Cavusoglu addressed around 800 people in the city of Metz to campaign for support for the referendum changes. During the meeting, which was sanctioned by the French authorities, he extended his country's attacks on the Netherlands.
Germany
Chancellor Angela Merkel has said she is not opposed in principle to Turkish ministers attending rallies in Germany but Interior Minister Thomas de Maiziere said: "A Turkish campaign has no business being here in Germany."
German authorities in Cologne, Gaggenau and Frechen withdrew permission for rallies of Turkish ex-patriots on logistical grounds earlier this month.
Denmark
Prime minister Lars Lokke Rasmussen has postponed a planned meeting with Turkish prime minister Binali Yildirm, scheduled for this month following the row with the Netherlands.
"Such a visit could not take place in light of the current attacks by Turkey against the Netherlands. Therefore I proposed to my Turkish colleague to postpone our meeting."
He also expressed his concern about the the democratic situation in Turkey.
Sweden
Dogan news agency said the owner of a venue in Stockholm cancelled a planned rally, without giving a reason. The BBC cited the country's foreign minister as saying the decision was a private one and the rally could take place elsewhere.
Austria
Austria's interior minister has said he wants to gain the legal right to ban speeches by foreign officials
Four planned events featuring Turkish officials in the country were cancelled last week, either by local authorities or the venues involved in Linz, Hoerbranz, Herzogenburg and Wiener Neustadt.