Ankara demands Dutch apology, promises "harsh" response
Comments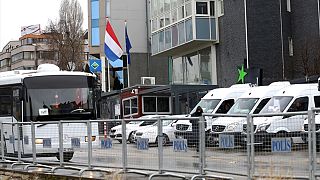 Turkish police have sealed off the Dutch embassy in Ankara and the foreign ministry says it does not want the Dutch ambassador to return from leave for what it calls "some time".
This the start of promised retaliation after the turning away of Turkish ministers from addressing political rallies in the Netherlands.
On Saturday night hundreds protested outside the Dutch embassy in Ankara.
Turkey says it will retaliate in what it calls the "harshest way", demanding an apology from the Dutch.
The Turkish prime minister said a response was being planned for what he said was "unacceptable behaviour".
Turkey has been condemned, however, for making Nazi comparisons against Germany and the Netherlands.
The Dutch PM, Mark Rutte, defended the action in Rotterdam, saying security concerns had to be taken into account.
He said his government would respond if the row escalates but insisted he wanted to reduce tensions.
Turkish political meetings have been banned in Germany, Austria, the Netherlands and Switzerland, and the rental of a venue in Sweden has been cancelled by the owner.
A meeting is expected to go ahead in Metz in France on Sunday, however.