Battle for Mosul: Iraqi forces 'block key road to Tal Afar'
Comments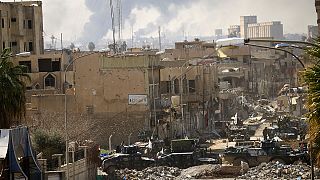 The Iraqi military says it has taken full control of the last major road leading west out of Mosul.
It follows reports of the US-backed forces fighting off an ISIL counter-attack near the newly-recaptured main government buildings.
The Mosul-Kasik road is strategically important because it leads to the jihadist stronghold of Tal Afar.
According to state television, two Shi'ite paramilitary groups backed up the Iraqi forces.
ISIL's ultra-hardline Sunni Muslim fighters are using snipers and suicide car bombs to defend their last key stronghold in the country.
They have mostly been pushed back into the Old Town, where they are hiding among local residents.
Tens of thousands of civilians are believed to have fled Mosul in the last week alone.