Iraqi PM Abadi visits Mosul amid major anti-ISIL gains
Comments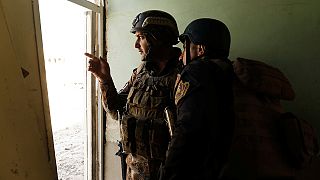 Iraq's Prime Minister Haider al-Abadi flew into Mosul on Tuesday, a day rich in symbolism and success for US-backed forces battling to liberate the west of the city from ISIL extremists.
He had this warning for the militants of so-called Islamic State.
"They have two choices – either they surrender and receive a fair trial or they will be killed.
"Some are escaping but even the escape path is closed now. They have no hope so that is why they should surrender."
Having taken eastern Mosul, Iraqi forces have targeted the west since February 19.
While vastly outnumbered, ISIL is putting up fierce resistance to hold on to its last major stronghold in Iraq.
#Rudaw showing the destruction inside #Mosul as #ISIS fighting capability significantly declines, coming soon! pic.twitter.com/yuhFsRNTZo

— Rudaw English (@RudawEnglish) 7 mars 2017
But key gains by Iraqi forces include the main government building, the central bank branch and a building that housed ISIL's main court of justice, known for its harsh sentences, including stonings, throwing people off building roofs and chopping off hands,
There is still some way to go in this battle.
But the latest breakthroughs pave the way for Iraqi forces to attack ISIL in the old city of Mosul, the most complicated phase in the nearly five-month campaign due to the density of the population and the narrowness of the alleyways.
The militants are dug in among civilians in the historic district.
with Reuters