Iraqi forces launch a new push to take western Mosul
Comments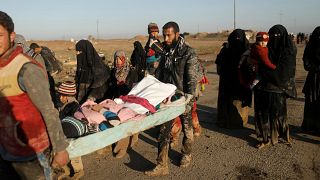 After a 48 hour pause in combat, US-backed Iraqi forces have launched a fresh push to take the IS-held areas in western Mosul.
Bad weather had stalled their advance from the south of the city.
In the early hours of Sunday morning, thousands of displaced people reached positions held by the Iraqi army, with tales of the horror they experienced.
"We are starving to death," said one man who had fled the city. "We have no food, we didn't even have any rice. Hunger and bombings forced us to flee our homes. We are fed up and we are really exhausted. Children didn't have anything to eat," he added.
According to Iraqi authorities more than 50,000 people have fled their homes since the push to retake the west of Mosul was launched in February.
Defeating ISIL in Mosul would effectively wipe out the Iraqi wing of the militant group, which took over large swathes of Iraq and Syria in 2014.