Taliban claims multiple deadly blasts in Kabul
Comments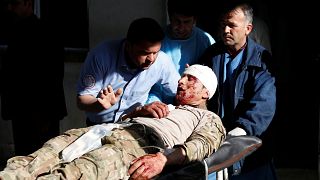 Taliban militants claim to have targeted multiple areas in the Afghan capital, killing at least 16 people.
Dozens were reportedly wounded in the attacks on police, military and intelligence offices.
A car bomb was detonated near a police headquarters in the west of the city, causing an explosion that could be heard across the capital.
The ensuing fighting lasted for several hours, with gunmen barricading themselves inside the building.
A Senior Army official said a separate attack appearing to target the National Directorate for Security (NDS) – the main intelligence agency – was quickly suppressed. One assailant blew himself up and a second was shot dead by security forces.