Iraqi forces 'trap ISIL in western Mosul'
Comments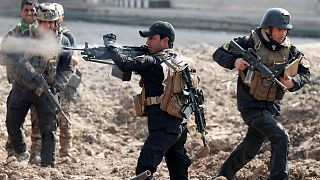 US-backed Iraqi forces say they have taken control of the last major road out of western Mosul. The move effectively cuts off ISIL's escape route to another of its strongholds – Tal Afar – some 60 km to the west.
Offensive west of the Tigris
It's the latest stage in an Iraqi offensive on the districts west of the Tigris river and effectively traps the militants in a shrinking area of the city. Reports suggest that before they were encircled, the group's leader, Abu Bakr al-Baghdadi, had urged his fighters to push back to the nearby highlands.
A "very tough" fight ahead
Lieutenant General Stephen Townsend, the head of the US troops fighting the jihadists in Iraq, said he expected "very tough" fighting in the days to come.
But added that he expected US-led forces to have retaken the whole of Mosul and Raqqa, the jihadist group's stronghold in neighbouring Syria, within six months.
Government forces captured the eastern side of Mosul in January after 100 days of fighting.
Efforts are now underway to repair some of the city's damaged bridges and reconnect the two banks of the river, with the aim of bringing in much-needed reinforcements and supplies and enabling civilians trapped in the west to flee more easily. Thousands are said to have streamed out of the city on Wednesday (March 1) alone.
Mosul Operation / West Bank
Green = Liberated
Yellow = active battles (clashes)
Red = ISIL Control
1/3/2017 – 03:00 PM pic.twitter.com/Pte6CI1FOT

— Mosul Eye عين الموصل (@MosulEye) March 1, 2017
Drones not a "game-changer"
On Monday (February 27) Major-General Rupert Jones of the British Army told journalists in London that around 100,000 buildings are to be cleared in what is expected to be house-to-house fighting. He labelled ISIL's drone strikes an "insidious threat" but said they weren't a "game-changer."