Anti-transgender bus forced off the streets of Madrid
Comments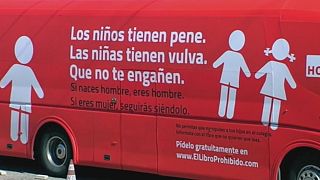 An anti-transgender bus has been forced off the streets
of the Spanish capital.
Campaigners had planned to take the bright orange vehicle on a national tour of Spain.
Activists, trade unions and officials from Madrid City Council united against it.
Public outrage has focused on the slogans painted on the side of the bus.
However, it actually fell foul of a local byelaw on outdoor advertising.
UPDATE: Roadblock for bus with anti-transgender message as Madrid orders vehicle off its roads: https://t.co/hUYpa9VHbt

— El País in English (@elpaisinenglish) 1 mars 2017