Thousands in famine-struck South Sudan forced to eat wild plants
Comments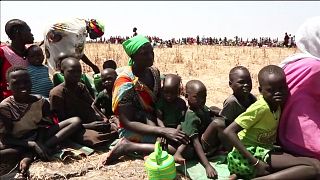 Thousands of families caught up in South Sudan's famine are hiding from marauding gunmen in the swamps and islands of the River Nile.
With next to no food many have been surviving for months on wild plants and the occasional fish.
Most are women and children. They recently emerged from the marshland after word spread that help had arrived.
World Food Programme coordinator George Fominyen said: ''They've been living on water lilies, they've been living on roots from weeds in the river, at most they eat once a day. It's really tough conditions.''
In famine-ravaged South Sudan, people eat weeds and water lilies to survive: https://t.co/8uBb2tC9iW via CBCNews</a> <a href="https://t.co/UVOIqFi25O">pic.twitter.com/UVOIqFi25O</a></p>&mdash; Julie Marshall (JulieMarshall2) February 27, 2017
Last week the United Nations declared famine in parts of South Sudan, the world's youngest nation. The UN claims the crisis is largely man-made.
The country was thrown into turmoil when a civil war erupted in 2013. The conflict has displaced millions, with many fleeing to other countries, notably neighbouring Sudan and northern Uganda.