Iraqi forces push deeper into western Mosul as civilians flee
Comments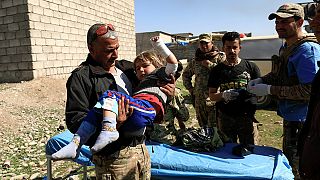 US-backed Iraqi forces have pushed deeper into western Mosul on Saturday, after retaking the city's airport from the self-styled Islamic State.
Troops have also advanced into several populated built-up southern districts in the so-called Islamic State's last major stronghold in the country.
An alliance of government-sanctioned Shi'ite militias have been launching their own push west of Mosul, largely cutting the city off from ISIL-held territory in Syria.
Hundreds of civilians, mostly women and children, have been leaving Mosul on foot to be taken to camps further south.
"There is an exodus of civilians especially from the districts of El Mamoune, Tel el romane and Tel el rayane, they are being evacuated via secured passages towards areas further back so that they can then be driven to safe zones," said Iraqi commander Abdul Wahab al-Saadi.
Some of the civilians fleeing Mosul have been describing their treatment at the hands of ISIL.
"They used us as human shields for four long months, they forced us and our families to be on the front line, we left everything behind us," one man said.
The government is encouraging residents to stay in their homes where possible, as they did in eastern Mosul where ISIL were cleared out last month.
The UN has warned that up to 400,000 people may have to leave their homes amid the new offensive in western Mosul as food and fuel runs out.
Aid groups said on Friday that the most dangerous phase of the offensive was about to begin.